The Perfectly Period Feast is being described as "collaborative research project culminating in an immersive experience". We are playing as guest of a wealthy merchant from 1450 to 1468, on a feast day.


There has been a guild set up for this event for the past few years, doing demonstrations and teaching classes, and lectures of the specific time period.
Petrus Christus, 1449. Detail from Saint Eligius
I love this fabric! If I can find a thin chenille I think it would drape like this, however I have another fabric in mind!
From a book of Hours found at
http://gallica.bnf.fr/ark:/12148/btv1b9009638m/f118.item
I love the purple gown as well as her Henin and the lady in green, could be a servant?? as she is not wearing a gown but just her kirtle.
Illumination from the Histoire de Helayne; 15th century French (1460-65). Bibliotheque Royale, Brussels
Now this has such rich colors! Notice the green kirtle under the lady in orange at the right of the screen. I also love the blue with the red kirtle. The lady in red to the left of the portrait has a black gown, and so does the lady being hugged by a suitor (I suppose).
Chroniques de Angleterre, ca. 1470. Vienna, Osterreichische nationalbibliothek Cod. 2534 fol. 17r.
You will notice purple plays a huge part in this sceen as well, two different ladies are in lilac. My first version of my houppalande is purple/blue fabric I have been hoarding for over 10 years.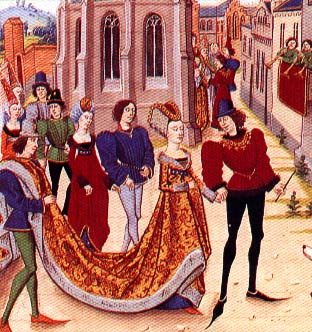 http://www.virtue.to/articles/poulaines.html
I am obsessed with the men's outfits with the portrait, I really love how swanky the guys are!!
So what do I want to do? And what fabric will I make it with?






















The Fabric
Check this bad boy out! This is from Sartor and it is a replica from the exact time period we are working with! I have 10 yards of this bad boy, since I need to match the seams and I want a large train, I am now wondering what kind of fur I want around it, and if I should spring for real fur or not.
Okay for the hat I want to make a show stopper, so I am researching a couple.
The Attor de Gibet is c 1410-1440 this might be too early because I am looking at making a gown from 1450's or later.
Reticulated Headress is another choice I am thinking the bottom right
NOBLE LADY, FROM EMPEROR, KNIGHT AND HIS LADY, 14TH-15TH CENTURY FRESCO INTERNATIONAL GOTHIC, BARONIAL HALL, CASTLE OF THE PRINCES OF SALUZZO
The Henin or Even Butterfly Henin or Escoffion at the bottom of this page.